HAPPY VALENTINE'S DAY | SAVE 10% | CODE: TELLINGA
Frequently Asked Questions
FAQ
What is Tellinga?
---
Tellinga sends hand-drawn personalized books and customized greeting cards as unique gifts through traditional mail. Story recipients receive illustrated stories about themselves based on unique preferences. It can be fun, dramatic, thoughtful... anything! Your mailbox isn't dead - it's more alive than ever!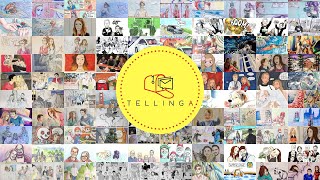 ---
How do I purchase a Tellinga story?
---
1. Go to Tellinga.com 2. Select " Start Your Story" 3. Select your desired story length 4. Add a brief description and upload photos 5. Add this to your cart and then checkout 6. If you are purchasing this as a gift, then make sure that your shipping details are accurate 7. Enjoy!
---
When will the story arrive?
---
You have the option to choose your desired shipping/arrival dates on the order page to ensure that the story arrives on time. You also have the option of tracking your order.
Domestic orders: 1-5 business days
International orders: 5-28 business days
---
How do I know if the story has been sent?
---
1. You will receive a confirmation email after purchasing a story 2. You will be notified via email after our artist has shipped the first part of the story 3. You will receive the digital print via email 4. The recipient then should be watchful for a brown grocery envelope containing their story. The buyer's address will be used as the return address on the envelope *If you purchased Tracking then you can use the following link to find your story: https://tools.usps.com/go/TrackConfirmAction_input
---
How long is each story?
---
It depends on the chosen story length. The following are the story lengths and the number of images included:
---
Do you have any examples of completed stories?
---
Yes. Please visit the Past Stories section of the website.
---
How are the stories shipped? What do they look like?
---
Stories will be shipped through traditional mail. Each image is hand-drawn on a 5"x 7" premium 32 pt thick greeting card-sized postcard with cool red edges. It is then placed in a 5.25" x 7.25" brown grocery bag style envelope with the customer's address used as the return address. A charity stamp is then applied and sent to your desired location. After sending your story through snail mail, the digital copies are uploaded in the "Download Your Story" section of the website and also sent to your email to share online with family and friends.
---
How does it work?
---
First, select your story length
Next, upload a photo and add a description of your desired story (reminisce a memory or create a brand new story)
After receiving your request, our team of talented artists will start working on your story
A few days later, the designated recipient of the story will start receiving uniqu